About Granite Magnetic Island
Welcome to Granite Bar. Nestled in the heart of Nelly Bay, our pizza and tapas bar is a testament to our passion for bringing people together through delicious food, drinks, and warm hospitality.
Our Cuisine 
fresh & delicious 
From the vibrant flavours of our tapas plates to the comforting goodness of stone baked pizzas, we have created a diverse selection of dishes that cater to every palate. We specialise in fresh and tasty dishes to be enjoyed with a nice glass of wine, ice-cold tap beer or house made cocktail created from the Magnetic Island's best cocktail bar.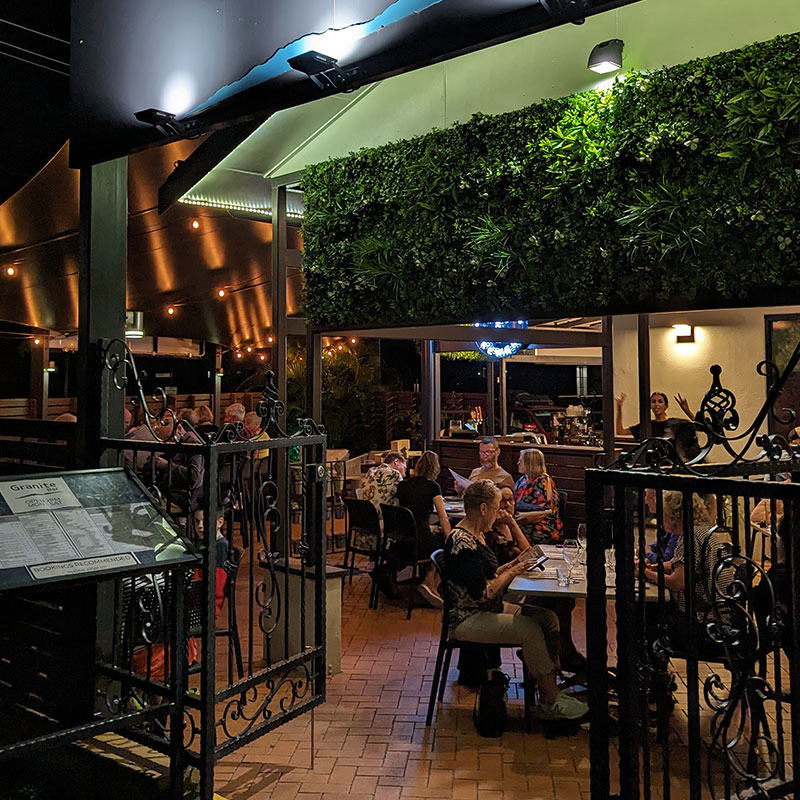 Our journey began with a passion to create a unique bar and dining venue where family & friends can gather in beautiful surroundings and be spoilt by friendly service, delicious food options and amazing cocktails creations.
With over 20 years working in hospitality on the island we are proud to bring a fresh experience to the island dining scene and create a venue that is worth coming back to time and again.
Creating happy and memorable expeiences for both island visitors and local residents is our drive and our passion. We thrive on being able to help our customers enjoy celebrating many happy occasions at Granite Bar.
Opening hours
Late lunch? Early dinner?
Our kitchen is open from 2.30PM until 8.30PM from MON – SAT.
Cocktail bar hours from 2.30PM until as late as you like up until middnight.
Local Love
With over 20 years living on Magnetic Island, we take pride in our North Queensland produce by supporting local farmers and suppliers whenever possible.
Crafted Cocktails
Our team is serious about cocktails! We love to craft innovative cocktails as well as perfect the classics. We use fresh ingredients and quality spirits to make the best cocktails on Magnetic Island.
Good Vibes
Surrounded by the beautiful mountain views and modern alfresco dining area, the inviting ambiance, good tunes and relaxed vibes set the stage for an awesome afternoon or evening with friends. 
Behind the scenes, are our owners and founders Mandy & Scott who are passionate about Magnetic Island and everything that is food and drinks. Working together with our talented team we work tirelessly to ensure your dining experience is not only delicious but an all round great experience that will have you coming back for more.
Awesome bao Buns, pizza and cocktails. The staff were very friendly and attentive. Will be back next time we visit.
Veronica Lister
2023-09-23
Enjoyed eating here multiple times during my magnetic island stay. Great pizza and chili margaritas!! The bao buns and Jalapeno Poppers are also delish! Fun and attentive staff. Highly recommend.
Beautiful place at Nelly Bay situated on a tranquil street out looking the beach. The food is great the staff were amazing and the atmosphere is magnificent 👌.
Alannah O'riordan
2023-09-03
Good food and well priced. Staff super friendly
Francis Malinosky-Rummell
2023-08-27
Great food and drinks, friendly folks and good vibe. They have a good variety of options on their menu and all the food that we had and saw was delicious. Really friendly staff, quick service, a good wine and beer list and a good drink menu. Relaxed vibe, sharing the space with the local Thick-knees. Can't wait to go back.
Great food and cocktails, friendly staff.